National Botanic Garden of Wales
Wales's Most Popular Garden Shows its Roots with .wales and .cymru Domain Names
Set in the beautiful Carmarthenshire countryside, the National Botanic Garden of Wales features an amazing collection of over 8000 plant varieties, spread across 560 acres of beautiful countryside.
Every year, thousands of visitors explore the spectacular range of themed gardens, tropical butterfly house, nature reserve and the world's largest single-span glasshouse. Opened in 2000, it is the most visited garden in Wales.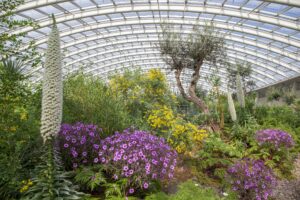 An online presence is vital for the National Botanic Garden of Wales in attracting more visitors from across the globe. As part of its ongoing investment in their digital profile, the Garden now has its own Welsh domain names – botanicgarden.wales and garddfotaneg.cymru.
David Hardy, Head of Marketing & Communications for the National Botanic Garden of Wales, explains:
"It was great to be able to secure these new domain names, that are short, simple and Welsh. They chime with our ambitions as a national and international institution, bringing a stronger cultural identity to our website.
And having the option of using either .wales or .cymru gives our Welsh visitors even more opportunity to engage and interact with us in whichever language they prefer. This is particularly important as we look to grow our social media following nationally. Now we can truly celebrate our 'Welshness' in all our online interactions."
Find out if your ideal Welsh domain name is available today using our search tool.