Hangar 5 Trampoline Park
The first trampoline park in Wales chooses a unique and memorable .wales domain.
With their interconnected trampolines, angled walls, roll-over platforms, slam dunk basketball nets, punch bags and trick airbag, Hangar 5 is not your typical tourism destination.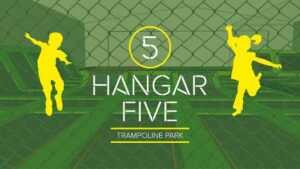 The trail blazing company established itself as the first trampoline park in Wales, so it was only natural they would want an exciting new domain name, as Kevin Howells, Director at Hangar 5, explains:
"We chose a .wales domain name quite simply because we're a proud Welsh company, and as the first trampoline park in Wales we wanted a domain name that was as equally unique and memorable. We get most of our bookings online, so a strong online presence is everything to the company – the more our domain name stands out to customers the better it is for business.
"As a start-up, we were one of the first companies to embrace a .wales domain name and since adopting it we've had a few enquiries from other local businesses looking to have one too. We live in a very patriotic part of Wales and so businesses have been keen to display their Welsh identity – finding the process really simple they have all switched over. We would definitely recommend for Welsh businesses to change to a .wales domain and reap the benefits that come with it."
Find out if your ideal Welsh domain name is available today using our search tool.