What you should know about creating a word-of-mouth strategy
Did you know that 92% of consumers believe brand recommendations from their friends?
Your customer base can grow exponentially as friends tell their friends who in turn tell their friends. In the age of social media, when it's easier than ever before to spread the word about a good or bad experience, the power of word-of-mouth marketing is something you can't afford to ignore.
What people choose to say to their friends may seem like something you have no control over, but you'd be surprised. In this article, we're going to look at some of the ways you can motivate happy customers to spread the word about your company.
Request reviews, ratings and testimonials
62% of consumers hunt for online reviews before purchasing a product or using a company, and 85% of consumers trust online reviews as much as personal recommendations. Contrast that with the fact that 75% of us don't take adverts to be the truth and it becomes pretty obvious that positive reviews are an excellent way to market your business.
Customers are more likely to trust what other people say about a brand than what the brand says about itself. Read the ultimate guide to online reviews for more information about harnessing the power of reviews to grow your business.
To reap the benefits of good reviews you won't need to shell out for a sophisticated review system. It can be as simple as when you receive an email from a happy customer, you just need to request their permission to add their testimonial to your website.
Similarly, you can proactively email customers after their purchase and request a rating, feedback or review. One study uncovered that 68% of consumers left a local business review when asked, showing that if you don't ask, you don't get.
Offer incentives
It might seem obvious, but one way to motivate customers to tell their friends about you is to give them an incentive to do so.
For example, on the confirmation email to customers, you could offer a discount on future orders if they click a link to share details of their purchase on social media. This gives the customer themselves a reason to return for more and incentivises them to do your marketing for you whilst talking about your brand on social media.
A referral programme is another great way to provide incentives. Typically, a referrer receives a bonus when their friend signs up as a direct result of their recommendation – the friend also gets a benefit of some form too.
Gousto, known for its recipe kit boxes use a referral programme in which they offer existing customers credit when they refer their friends: "Invite your friends to try Gousto and we'll pop £15 in your account and your friends will get 60% off their first box, PLUS 30% off for a whole month."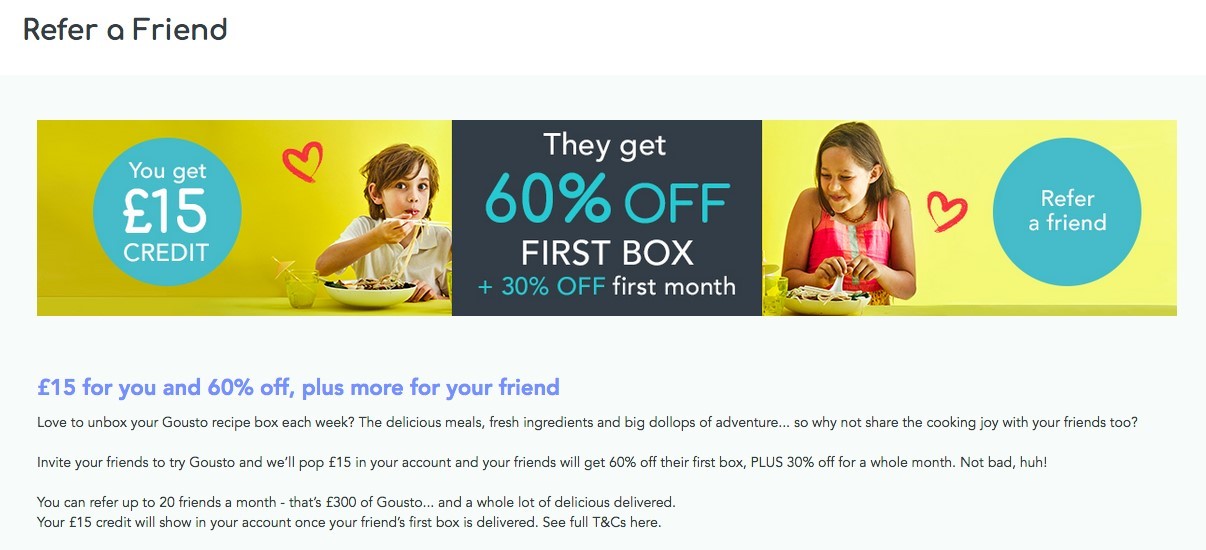 Customers can continue doing this up to the value of £300, which provides a powerful incentive to keep persuading friends to sign up using their own personal referral link. This special link can be shared on blogs and social media accounts, as well as directly among friends via email, text or instant message.
Pasta Evangelists also have a refer-a-friend programme that offers customers a free box of pasta when a friend signs up, and the friend gets 50% off their first box. With a concrete benefit such as this, the motivation to spread the word becomes all the more appealing.
The power of user-generated content
User-generated content is a way of encouraging consumers to talk about your brand online and there are a variety of ways to get them to do this. A competition is one approach to doing this – here is some more information about the strategy behind running a contest.
Simply coming up with a hashtag on social media is another way to motivate word of mouth marketing in the form of user-generated content.
Boden does this well by encouraging customers to post photos of themselves in Boden clothing alongside the hashtag '#bodenbyme'. Following this, the hashtag images are featured on the homepage, with the option for customers to directly upload their photo to the gallery.

This programme gives both parties what they want. The Boden team can sit back and enjoy watching happy customers spread the word about their brand on Instagram. All the while, customers get the opportunity to experience their 'five minutes of fame' and pick up a few more followers on the way as people click on the link to their Instagram account.
Partner with influencers
If you're looking for another way to encourage user-generated content, you might want to consider joining forces with an influencer. Whether it's popular lifestyle bloggers and Instagrammers such as RVK Loves, or YouTubers with huge followings such as Tanya Burr, the marketing potential of having a big social media influencer telling their followers about your brand is enormous.
40% of us have bought a product after seeing it being plugged by an influencer on YouTube, Instagram and Twitter, while 49% admit they rely on recommendations from influencers when making their purchasing decisions.
This may seem like an expensive route, but it doesn't have to be. Some influencers are more than happy to produce a review or share your brand with their followers in return for a free product.
If this is something you're considering it's worth taking the time to pinpoint who the top posters are on relevant hashtags to your business. Once you've done this, reach out to them to discuss collaboration options.
A collaboration provides a mutual benefit for both parties and it's highly likely that their followers will be interested in what your business provides. This exchange is an opportunity for both of you to gain more exposure by featuring on each other's accounts.
With all that said, we're assuming that you already have an excellent product/service that consumers will want to share with their friends. For a word-of-mouth marketing strategy to work, you need to approach it from a position of complete confidence in your own business. If you invest in a great product/service with superb customer support, then you'll be well on the way to word-of-mouth marketing success.
Original post created by Rachel Ingram on the UK Domain.