Building an Instagram strategy in five steps
Did you know that 63% of small businesses already use social media and 22% are planning to set up an account in the near future? It's no surprise to hear that businesses everywhere are reaping the benefits social platforms have to offer.
However, up to 40% of those already promoting on social media of those already promoting on social media don't yet have a clearly defined strategy – meaning that it's quite likely they're not getting a return on their investment.
The world of social media is a noisy place and you'll find a healthy amount of competition – so it's essential that you have a strategy in place to ensure your social activity is as effective as possible.
Instagram strategy – what is it?
An Instagram strategy is a comprehensive document that looks at:
Why you post
What you post
When you post
How you post
This plan will demonstrate the purpose of your content and the goals you're working to achieve by having an Instagram account.
A key advantage of producing this strategy document is that you're forced to take the time to understand your audience:
Who are they?
What are they looking for?
How do their needs align with your goals?
How can you attract them in a way that gets them on board with your business?
Creating your Instagram strategy
Now you know what an Instagram strategy is – how do you get started?
Creating an Instagram strategy for the first time can feel a bit daunting. The good news, however, is that Instagram can be an incredibly powerful tool when used properly and your strategy is going to help you unlock its potential.
Here's a step by step guide with advice on what to consider and how to plan your strategy.
Step 1: Objectives
Ask yourself: "Why do I want to be on Instagram?" This should link back to your company goals.
2019 Sprout Social Index suggests that almost 50% of marketers find aligning their social media campaigns with their company goals their biggest struggle, so it's understandable if you find it challenging at first.
To help you identify your goals for Instagram, follow the guidance outlined underneath, remember to take your wider business objectives into consideration also.
Identify a broad objective
If you can determine why your business is active on social media in the first place, this will aid the objective-setting process. Examples might include:
Improving traffic to your website
Increasing brand awareness
Promoting specific products/services
Engaging local followers and growing a greater community presence
Providing a platform for existing customers to boost loyalty
Increasing sales
Generating new leads
After you've established your broader goals, you can start thinking about more specific goals which will motivate your daily social media activities.
Determine SMART objectives
These more specific objectives will make you really think about the direction your Instagram strategy is going.
Objectives should be clear, simple and defined – with no room for misinterpretation. For instance, you might set an objective as growing a set number of new followers by a certain date or selling a certain number of products as a direct result of a campaign.
Ideally an objective should have one or more metrics, for example, new followers, email sign-ups, sales etc.
With the resources you currently have – are your objectives achievable?
If you're a small business or just starting out, is it possible to achieve 1000+ new followers a month and post content on a daily basis if you're stretched for time?
By setting your objectives within a time-frame you'll be more likely to accomplish them.
Step 2: Audience
An essential part of your strategy is understanding your audience, as this will help you to identify when and what to post on Instagram.
If you've already defined your buyer personas, you can simply use this information to determine your target audience. If you haven't, it's a good idea to write down what a typical customer looks like for your business – think about:
Who are your customers? How old are they? What do they do for a living? Where do they live?
What are they interested in? Do they like entertainment, educational content, information on new products or seeing case studies?
Where do they usually hang out online? Which social media sites do they use most often? Do they look at news sites or do they prefer niche platforms?
When are they usually online? Some audiences tend to be online more during the weekend, some during their daily commute and others at lunchtime or in the evening.
Why do they use the internet? Is it to follow the news, find out more information about products, buy products or seek advice?
How are they using the internet? Does your audience like to read social media posts, blogs or watch videos?
Another useful way to pinpoint your target audience is to carry out analysis of the social media profiles of your competitors. What are your competitors posting and who are their followers? This will provide helpful insight into what your target audience should look like too.
Here are 13 competitor analysis tools you can try.
Step 3: Brand voice
Personality and tone of voice play a vital role in your overall Instagram strategy. This is the tone you adopt in your posts, the language you use and the type of content you post.
Will you speak formally to followers or use slang? Will you provide informative posts or share fun light-hearted content?
Forming a unique personality for your brand distinguishes you from your competitors and allows your followers to get to know you. Your audience want to know what to expect from you – if you're all fun and memes one day and post serious complex issues the next, you'll be giving your followers mixed messages which will likely lead them to do one thing -> unfollow.
When identifying your voice and tone, think about:
If your brand was a person, what kind of personality would it have? What would its relationship be with your customers?
What personality traits does it not have (silly, forceful, pushy, preachy etc)?
Which brands have a similar personality to yours?
What do you want customers to think about your brand?
Step 4: Content
The fourth phase of your Instagram strategy entails looking in detail at the type of content you're going to post and how often you're going to share it.
When planning what to share, it's useful to jot down a handful of themes – this gives you the freedom to post a variety of content to pique the interest of your audience. However, it's important to stick to these themes, if you attempt to post about everything and anything it's likely that your followers will become confused with your identity.
A great example of a brand using multiple themes and sticking to them is Shell on Earth, a family business in New Quay Wales providing recycled sustainably sourced shells for use with plants. Overall, the feed is consistent, and the themes are always present – each post shares the same filter and natural botanical feel. The captions are always down to earth and conversational, which ties in nicely with the warm and friendly images that accompany them.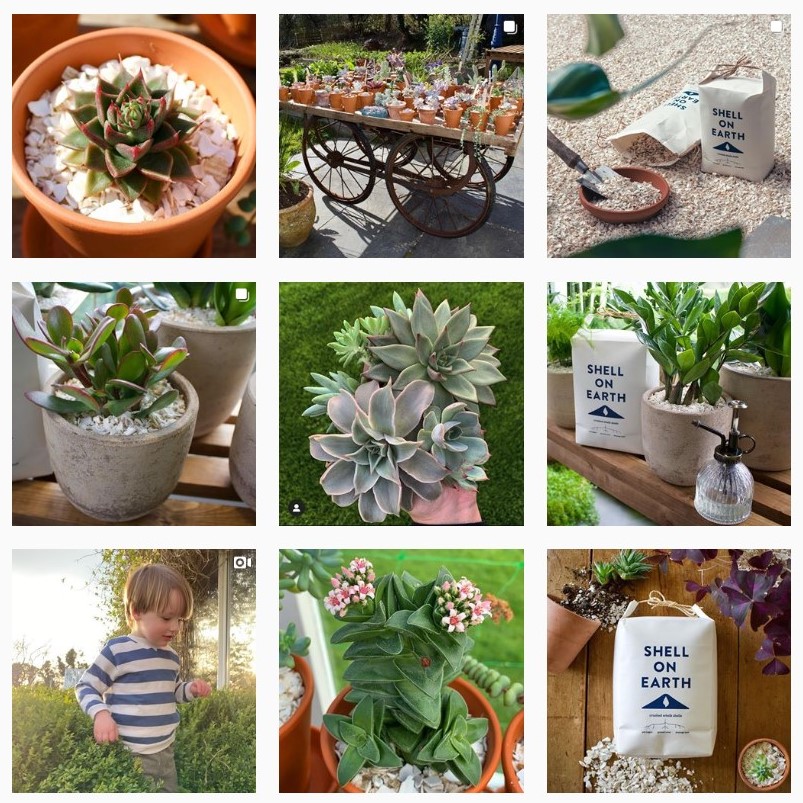 When planning the content for your own page, you want to ensure it's going to resonate with your followers, so they engage with it in the form of likes, comments and tagging others.
You can accomplish this by considering the following:
What aspirations or challenges do your customers have?
How can you help them achieve or overcome them?
Content ideas
Here are some useful content ideas to get you started:
Behind the scenes and meet the team
This type of content makes you more personable and once again, builds trust. Human faces also help to create a personal connection to your brand and tap into people's emotions. Photos showing faces receive 38% more likes compared to those which don't.
User-generated content
If you can get hold of customer photos, this is brilliant content to use. It's fun, authentic, builds trust, helps people relate to you and is a fantastic way to show your products in action. Here is a great example of user-generated content from MeUndies and as you can see a user makes the comment 'Can't wait to order these for my boyfriend and I.'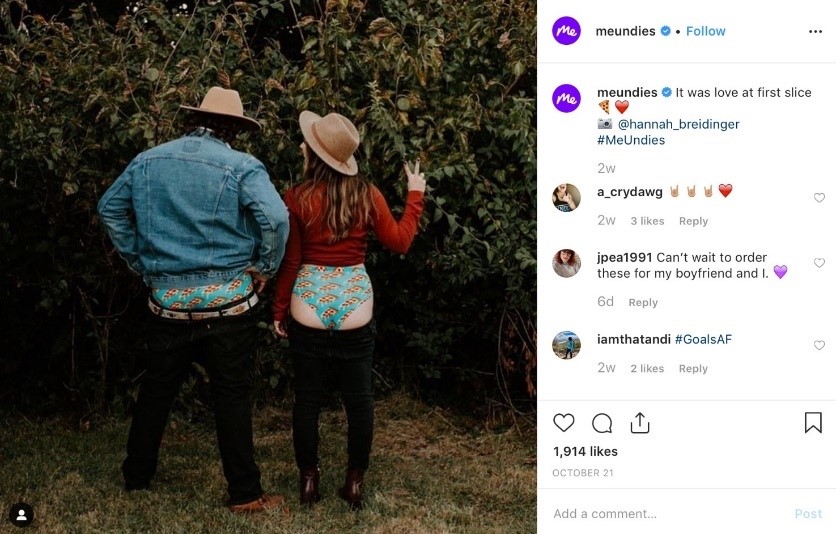 Engaging photos
Aside from human faces, the other types of photos which usually get a positive number of likes on Instagram are historical images, landscapes, animals and food.
Think about if any of these relate to your business and how you can use them.
Product demonstrations
Demonstrations provide you with a good opportunity to create video content. Videos on Instagram receive 38% more engagement than image posts, so it's well worth adding a few to your feed.
Business news
This can include new staff members, awards you've won and office moves.
When to post on Instagram
Creating a content schedule with a plan on what and when to post means you're more likely to enjoy Instagram success. Without a plan in place, it's easy to let days and weeks slip by with other bigger things taking your attention away from posting.
Implementing a scheduling tool is a simple way to get around this problem. Just write your posts in advance, schedule the day and time and they will automatically be shared without any additional help from you.
If you're new to social media scheduling tools, some useful platforms to consider using include Hootsuite, Sprout Social, CoSchedule, Feedly and Post Planner.
To figure out the best time of day to send your posts, take a look at your Instagram insights. Within Instagram insights, if you click on 'Audience' and scroll to the bottom you'll be able to see the peak times your followers are online. Buffer has also put together a useful guide to help businesses determine the best time to post on social media.
Step 5: Measuring success
The only way to know for certain that your Instagram strategy is on the right track is to measure your performance – analytics tools are ideal for this.
Within Instagram you'll have access to insights such as follower figures, post and story views, page interactions, impressions and reach.
If you regularly review which posts receive the most engagement, such as through likes and comments, you'll be able to build up a better picture of the type of content your audience responds to best.
You can then use a website analytics tool such as Google Analytics to determine how many people have visited your website because of Instagram, how long they spent on your site, which pages they looked at and whether or not they made a purchase.
A final aspect of your Instagram marketing strategy to consider is how you're going to display your plan. Hootsuite has a useful free template you can use which makes it easy to outline goals, identify your target audience, monitor your competition and audit your current social media presence.
Leading on from this, take a look at this Instagram marketing for small businesses guide, which will walk you through setting up your business account, posting stories and successfully battling algorithms.
Originally posted by Monique Holtman on the UK Domain.